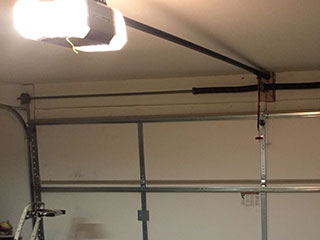 In the attempt to maintain your garage door and extend its lifespan, you must pay extra attention to one critical component: the opener. In our years of work, we have observed that maintaining the opener can help you prevent half of the common garage door problems from happening. At Garage Door Repair Wilmette, we are at your service. Here are some common opener-related issues that you can easily detect:
Garage Door Opener Malfunctioning
Is your garage door behaving strangely? Does it automatically change the speed of the operation or suddenly stop in the middle? Then you are most likely looking at a problem with the setting of the opener or the remote control. Most modern openers that are marketed as smart can encounter this issue.
They can be easily fixed by reprogramming the settings, but only experienced professionals should take on such a task.Tampering with these settings on your own may lead to irrevocable damage.
Issue with Close-limit Switch
The close-limit switch and its associated settings in the opener are what directand stopthe motor from moving at a certain point, both while opening and closing. Changes in this limit setting can cause your opener to malfunction, which can be dangerous. It is never recommended to try and fix these problems on your own, as they can be quite dangerous. Our professionals have years of experience and will get your opener back to work in no time.
Safety Sensor Alignment Issues
It is now mandatory for all garage doors to have sensors as a safety measure. These sensors stop or pause the garage door movement when they detect an object or a person obstructing the path of the door. This is to avoid the door from hitting the object/person, which can have disastrous effects on the garage door too. We recommend having your sensors checked regularly to make sure everything is in proper working order and most importantly, to keep you and your family safe.
Whatever be the issue with your garage door opener, our technicians are just a call away to help you. Reach out to us today!
Count on our team for:

Galvanized Torsion Spring Installation

Commercial Garage Door Replacement

Overhead Door Repair & Installation

Garage Door Troubleshooting Services